Steve Flesch
Golf Level: 4-time PGA Tour Winner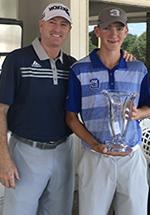 "My son and I have thoroughly enjoyed working with Andrew for a few years now. Andrew has really helped my putting tremendously. Through his of the SAM Puttlab, we identified my stroke tendencies and corrected my path and aim problems to give me a better chance to hole more putts. He also also taught my 18 year old son to better understand his golf swing through some cool modern technology like Trackman and K-Vest. Andrew then incorporates swing adjustments to improve the quality of his ball striking. Most importantly, Andrew always makes our lessons fun and educational experiences."
Kris Waldespuhl
Handicap: 20
Golf Level: Competitive Amateur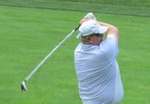 I have been a student of Andrew Stephens for a little over 2 years now. I was recommended to see him by the Pro's at The Golf Exchange. What I was looking for was a swing coach that could teach me the proper mechanics of a golf swing for "me", to correct the flaws that I have adapted to over the years and obtain better impact position during the down swing. Believe me there were a lot of changes that needed to be made to my golf swing. So, after researching who Andrew was, and seeing the accomplishments that he has obtained, I knew that I wanted Andrew Stephens to be my swing coach.
At the Stephens Golf Academy at The Golf Ranch I can get lessons with the best technology year round. This is what I was looking for, especially when I was looking to improve and to reach my goal of competing. In addition, Andrew is up to date on all of the latest training tools and coaching techniques. He also has trackman to monitor your swing so a proper evaluation can be made, so a proper training session can be created. By far, this is the best place to go for year round golf instruction and coaching.
This year I started playing on the Golf Channel Am Tour. With the coaching, encouragement, and advice from Andrew, I was able to compete and do well on the GC AM Tour. To date, I have won two times this year and I am looking to win more tournaments in the future. Thanks Andrew!
If you want to learn the proper mechanics of the golf swing and get into that perfect impact position to hit that crisp shot, there is no better person to see than Andrew Stephens. This goes for all types of golfers. Whether you're a beginner, or a recreational golfer that wants to fine tune your game, or that serious competitive golfer who wants to be the best, go see Andrew Stephens and his staff at the Stephens Golf Academy!
Susan Hurwitch
Handicap: 23.9
Golf Level: Recreational Amateur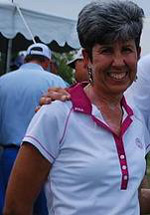 "I have been a recreational golfer for the past 20 years and over that span of time have participated in golf clinics, and have worked with numerous golf instructors without significant results. I had the good fortune to start working with Andrew Stephens last year and came to him with the complaint that many golfers have; which was that my ball was going nowhere, and every club in my bag was carrying virtually the same distance. I was a mess and not a happy camper on the golf course despite a love for the game. 
Andrew immediately identified the areas I needed to work on and communicated them in a way that I clearly understood. His diagnosis was "spot-on" and unlike any other instructor I had seen in the past, he was able to identify the missing link that unlocked 20-30 yards in my golf swing. In a period of 2 months my handicap index dropped by 4 strokes. He has given me incredible confidence on the course and much to the surprise of my regular golf group my name is finally appearing in the win column. What I find the most amazing is that he has been able to give me steps that I can progressively build upon and has provided me with practical information that allows me to self-diagnose on the course. 
It is clear from working with Andrew that he loves the game of golf, enjoys teaching the game to his students and cares deeply about each persons success regardless of skill level. Andrew utilizes state-of-the art equipment and his facility at the Golf Ranch offers privacy in a climate controlled environment. My work with Andrew has just begun and I have already seen amazing results. I am eager to continue working with him to reach the next level in my game that I now know is an achievable goal thanks to Andrew's expertise. I never thought I would be playing better golf in my 50's than I did in my 30's! Thank you, Andrew."
Rylan Wotherspoon
Age: 12
Golf Level: Competitive Junior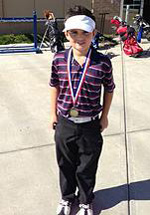 "I started working with Andrew roughly a year ago and I have seen a big difference in my scores. He makes the lessons fun and his coaching is easy to take home and practice. I really like the Golf Performance Studio because I can work on my game all year long regardless of the weather. Thank you Andrew for helping me improve and win Tournaments!" 
 Rylan Wotherspoon 
"Having a son that lives and breathes golf it was crucial to find a coach that was vested in Rylan's love of the game as much as having the knowledge it takes to make him a better player. The Golf Development program that Andrew has introduced is giving Rylan exactly what he needs to build a great foundation for future success. Andrew does a remarkable job communicating technique and does not rush the process with Rylan. He truly understands that golf is a game of longevity and has tailored a plan for his needs and exponential growth. The combination of Andrews vast knowledge, the state of art training studio and his devoted interest in building Rylan's passion for golf is proving to be a winning combination. I highly recommend Andrew for anyone looking to improve their game whether its for recreation or competitive golf." 
 Adam Wotherspoon