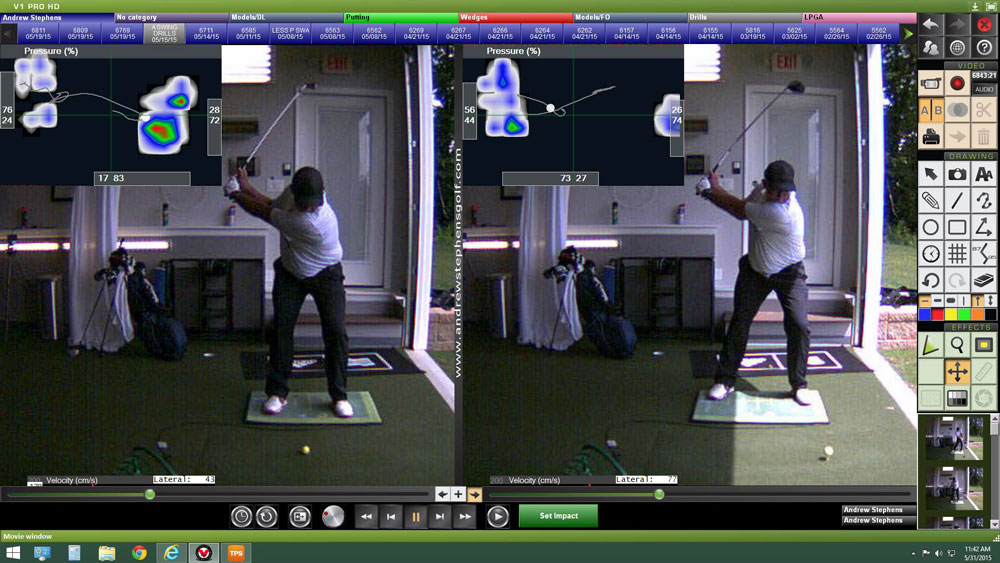 V1 Pro HD and the Boditrak mat is a technology used by all 4 of our instructors. V1 Pro is the industry's #1 high speed video system. Using two high speed cameras from down the line and face on, we record an analyze swings throughout the session. Video is essential in the learning process because it allows the student to separate 'feel' from 'real'. Our professional database has more than 300 model swings ranging from Ben Hogan to Jordan Spieth. We'll often compare a student to their favorite player or one who fits their body type to illustrate certain changes in the swing that we're trying to make. At the end of each lesson, the student will receive a recap video. If you click Student Login above, you can login and access your lesson videos as well as watch an example video. 
Using the Boditrak mat with the V1 Pro software adds an important dimension to golf instruction, and offers the student a "peek behind the curtain". The Boditrak, consisting of more than 400 high-resolution pressure sensors, provides detailed foot pressure data, accurate pressure distribution, real time center of pressure (CoP) and CoP patterns. All elements that cannot be determined by the best trained eye or even expensive high-speed cameras. The balance plate data is perfectly synchronized with high-speed video images as well as with data from the Trackman. 
The Boditrak helps us answer two very important questions in the golf swing: 
How does your weight move throughout your golf swing? 
When do those movements take place? 
The Boditrak can help correct set-up flaws, as well as inefficiencies and inconsistencies with the pivot and transition. Great ball strikers have certain checkpoints that they try to achieve during their golf swing in terms of weight distribution. Using the Boditrak we work to optimize your weight movement so that you can improve the power and consistency of your golf swing. This technology is available during every lesson!
Tiger Woods discussing importance of video and how its helped juniors progress at a faster rate
Boditrak CEO Terry Hashimoto and Grayson Zacker of the Jim Mclean Golf Academy discus the use of the boditrak mat with V1 Pro HD.